Virtual Showroom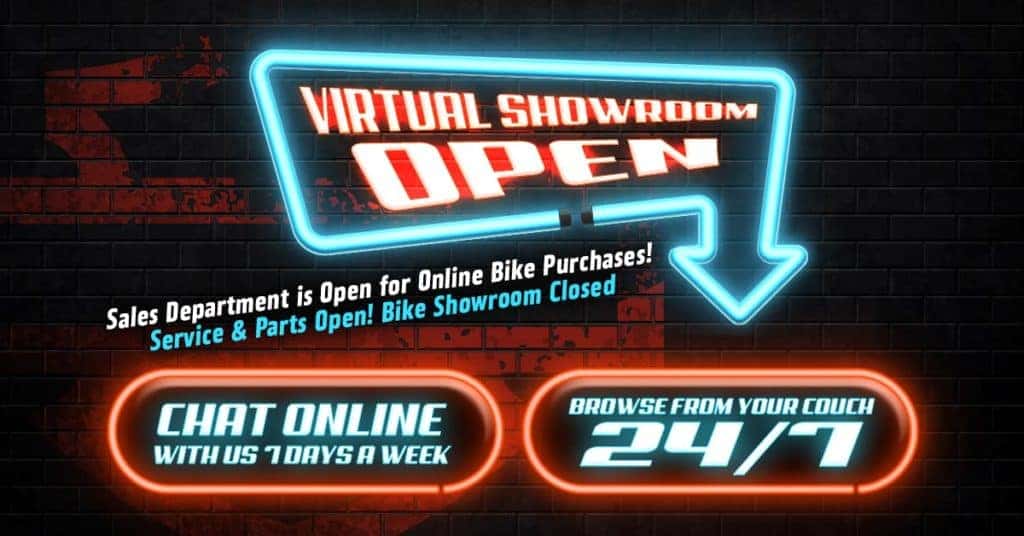 Our showroom in Golden is temporarily closed, but we're open online 24/7! Browse from your couch and hit us up on chat today! Our Virtual Sales Dept is open online for bike purchases.
---
---
How can I contact you?
The best way to reach us right now is to hit us up on our brand new website chat and text feature! Initiate a conversation with us by hitting the blue button you see at the bottom of your computer screen or mobile device. If our crew is tied up assisting other customers or catching some Zzzs, our helpful robot assistant, Anabot will take a message for us and we'll get back with you as soon as we can.
---
Can I visit the showroom in Golden?
Currently, no. Per Governor's COVID orders, our showroom is temporarily closed. Our Virtual Sales Dept IS OPEN and you are able to buy bikes with us through our new virtual experience. Hit us up on chat for more info. Stay tuned to Facebook and our website for updates on dealer operations. Our most up to date hours of operation are available on this website.
---
Is the Service Dept open?
Currently, YES, our Service Dept in Golden is open on a modified schedule [Hours]
As you know the COVID pandemic is a rapidly evolving situation and our hours and services are subject to change without notice. Our dealership experience has implemented changes for COVID prevention and we ask you to review our stop the spread recommendations and reach out to us ahead of your service appointment to ensure we can continue to serve you safely. We ask that like us, you stay up to speed on CDC and local health/government and follow their guidance.
---
How do I shop for a bike online?
You can browse our inventory online and if you need financing you can even start the process by getting approved online. Our Virtual team is standing by to ensure our customers can still get access to lenders and inventory so they can stay on the road. Feel free to hit us up on chat for questions.
---
Is Parts or MotorClothes Open?
Currently no. Per Governor's COVID orders, our showroom is temporarily closed. Feel free to hit us up on chat with your needs and we can see if one of our sister stores can fulfill and ship any special requests. If an essential part is needed to keep/get your ride on the road so you can continue to have reliable transportation, reach out to our Service Team and we'll do our best to accommodate you.
---
*Per Colorado state law, Virtual Sales Agents may not discuss bike prices or sales terms on Sundays. On Sundays we will be happy to take a message and follow up on Monday.
---