Avalanche Harley awarded Silver Bar & Shield Award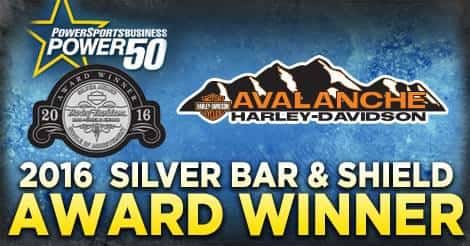 DENVER, CO (February 17, 2017)
Avalanche Harley-Davidson earned the prestigious Silver Bar & Shield Circle of Achievement Award for 2016. Presented by Harley-Davidson Motor Company, this award is given to dealers based on motorcycle and related product sales performance, customer service and satisfaction, and operational measures.
"We're proud to present this high honor to The Motorcycle Company in recognition of the outstanding work being done at Avalanche Harley-Davidson," said Mike Kennedy, Vice President and Managing Director of the United States. "Dealers like Avalanche Harley-Davidson are a big reason why Harley-Davidson is one of the most respected and recognized brands in the world and why we enjoy having the loyalty and commitment of our riders."
Silver Bar & Shield award recipients, like Avalanche Harley-Davidson, consistently elevate the brand by providing their customers with exceptional and authentic Harley-Davidson experiences.
Avalanche Harley-Davidson, 8000 West Colfax Avenue, has been in business in the Denver area since 2012.