2020 Harley-Davidson Touring Road King in Golden, CO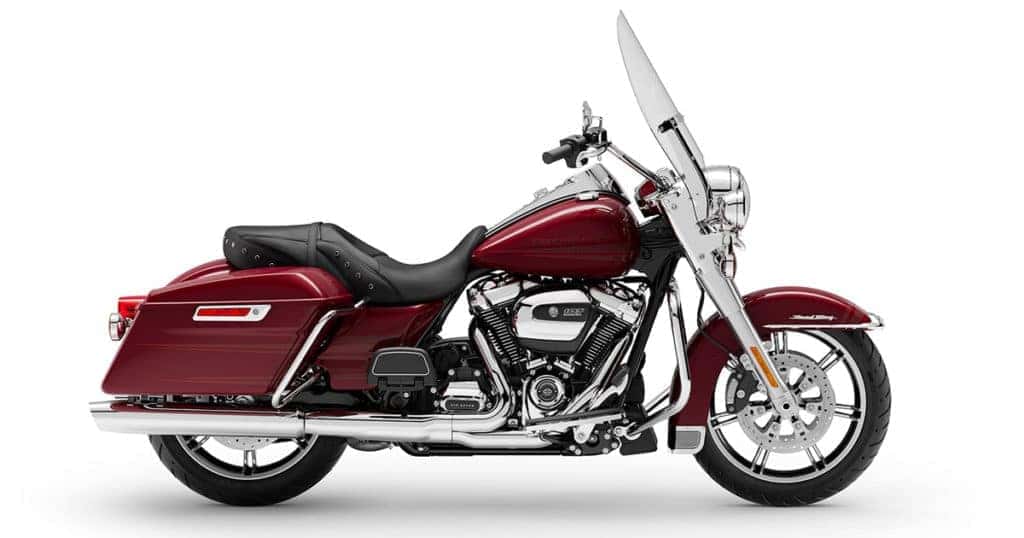 Harley-Davidson has that unmistakable style that was born from decades of precision craftsmanship. If you love the feeling of the open road, then the fully-dressed touring machine, the 2020 Road King, might be the ideal fit for you. Its stripped-down appearance package is straight out of the '60s, yet its powerful motor brings it out of the glory days and into the modern age — fast.
Trim Levels (Exterior)
The king is back and makes a statement too big to ignore; this bike is anything but subtle with its modern classic design and dominating presence. For the 2020 model year, get your Road King in your choice of five available colors. Pick from the classic vivid black, billiard red, stone-washed white pearl, silver pine, and the racy stiletto red.
Styling (Features)
All the small towns, roadside attractions, adventures, and stories are yours for the taking in the saddle of your own Harley-Davidson Road King. Big, chrome Hiawatha headlamp offers the nostalgic style Harley's designers were aiming for with this Road King. While it might look retro, the headlamp is built using the latest in materials and technology. It touts a long-distance high beam and a broad, low beam.
The Road King's Showa high-performance front suspension and rear emulsion shocks absorb jarring road imperfections for a luxurious ride. It has adjustable rear setting dials in the exact level of comfort you demand with easy-to-use hand controls. Stunning 18-inch Slicer II wheels are lightweight and add a refined, eye-catching profile to this bike's commanding stance.
One-touch saddlebags are convenient and offer plenty of storage for those extended day trips — up to 2.3 cubic feet. That's enough storage for an overnight bag or a picnic lunch. It also comes with a security system and cruise control, all standard.
Harley Davidson gives you seemingly endless possibilities to customized your experience. Make this the most rewarding journey of all with genuine HD parts and accessories. Achieve the look you want and a bike that fits you like a glove. Stand out from the crowd and keep your bike running with peak performance that maintains the pure sound that only a Harley engine can produce.
Engine (Power)
Harley's all-new Milwaukee-Eight 107 engine is the third "big twin" developed by the company in 80 years. "The Wafflehead" was first introduced in 2016 and as a ninth-generation engine. It offers crisp throttle response and a pure, soul-satisfying rumble. It's a powerful, smooth-running choice for the Road King. It produces 117 horsepower and 111 pound-feet of torque, and has a fuel economy rating of 43 mpg combined.
Safety Features
Harley-Davidson equipped the 2020 Touring Road King with its suite of defensive rider systems. The fully electronic Reflex Linked Brake system for this motorcycle utilizes technology to enhance traction, stability, and braking while on a straight line and when cornering.
It's designed to add rider control while accelerating, decelerating, and braking the bike in both adverse road conditions and during emergency situations. It includes four key elements: traction control, drag-torque slip control, an anti-lock braking system, and linked braking.