2020 Harley-Davidson Touring Road Glide in Golden, CO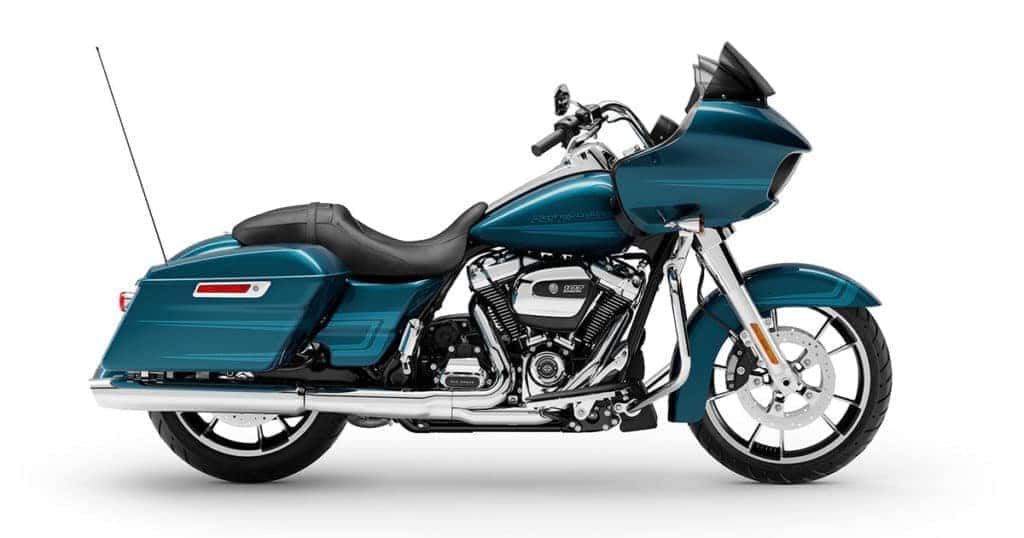 One of Harley Davidson's most road-devouring machines, the 2020 Touring Road Glide, is loaded with premium features, like the latest in advanced wireless connectivity and entertainment systems. This iconic touring bike gets a bit of an upgrade for the new model year with some new premium finishes and high-tech options. Let's discover everything you want to know about this new Road Glide motorcycle.
Paint Options (Exterior)
This new Harley is a blacked-out, fully loaded grand-touring machine. From the front forks to the tips of the exhaust, it boasts an aggressive, modern appearance. Add one of six premium finishes to the look; choose from vivid black, river rock gray, billiard red, barracuda silver denim, scorched orange with silver flux, and zephyr blue with black sunglo.
Styling (Features)
The front fascia touts dual reflector LED headlamps and a 13.5-inch windscreen. The fuel tank and fender medallions are surrounded by a charcoal gray border with a gloss black fill, while the luggage carrier hinges, latches, and rack are all in keeping with the blacked-out theme.
Roll in style and attitude on the back of your Road Glide glossy, black wheels. Upfront, you'll find a 19-inch aluminum wheel, while an 18-incher holds the rear spot. Sleek saddlebags are roomy on the inside and offer plenty of space to stash your essential riding gear. Pop the lid with one hand for easy access to stored items.
Connect your bike and your smartphone with H-D Connect Service. This subscription-based program uses the latest app to integrate directly with your Touring Road Glide. Check your bike's vital information like fuel levels, get tamper alerts, and use the system to track your bike if it's ever stolen. It remotely connects to your bike, and uses built-in wireless connectivity and GPS to keep you in the know.
Harley-Davidson equipped the 2020 Touring Road Glide with the Reflex Linked Brake system. This suite of defensive rider systems utilizes the advanced technology to enhance traction, stability, and braking while on a straight line or while cornering.
This fully electronic system is designed to add rider control while accelerating, decelerating, and braking your motorcycle. With four critical elements, including traction control, drag-torque slip control, an anti-lock braking system, and linked braking, it aids the rider in both adverse road conditions and during emergencies.
Stay entertained on those long road trips with Harley's BOOM! Box GTS entertainment system. This isn't your run-of-the-mill stereo. It's designed to be durable and engineered for the rigors of motorcycle travel. With a contemporary look and feel, it's optimized to provide the rider with a delightful experience in the saddle.
Engine (Power)
The 2020 Harley-Davidson Touring Road Glide is equipped with a thrill-inducing Milwaukee-Eight 114 V-Twin engine. Fire it up and get ready for one heck of a ride. Get the most displacement of any standard Harley-Davidson touring models. You get 114 cubic inches of passing and cruising power. In its ninth-generation, Harley's legendary motor has eight valves and delivers loads of torque, a faster throttle response, beefier sound, improved fuel economy, and a smoother ride.