2020 Harley-Davidson Street Rod in Golden, CO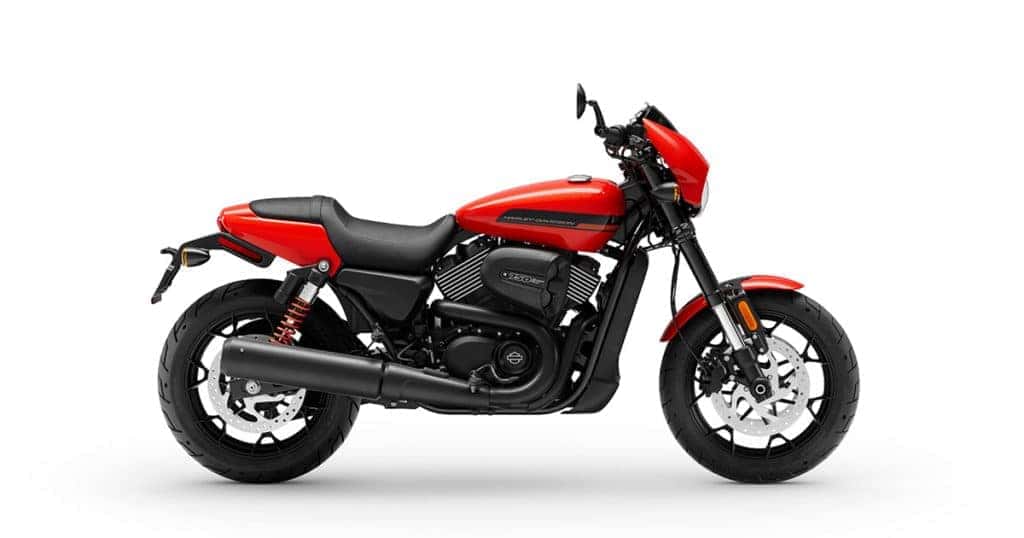 Wherever you go, the 2020 Harley-Davidson Street Rod brings adventure along for the ride. On the road, this cruiser looks good, feels good, and provides you with endless thrills. Shoppers can choose from a range of exterior colors, trim options, and safety gear to create a customized ride.
Styling
The 2020 Harley-Davidson Street Rod is available as a highly customizable single model. This speed demon is available in four exterior colors: Vivid Black, River Rock Gray Denim, Stone Washed White Pearl, and Performance Orange. The Street Rod's lightweight front fender and black fender bracket don't just look great — they lend themselves to this cruiser's thrilling performance.
From the front to tail-end, this Harley-Davidson looks streamlined and stylish. The Street Rod accommodates riders with its two-seat performance tail section. Seating features French stitching patterns and a perforated finish. Each passenger gets two foot pegs to themselves. The drag-style bars include mirrors on each end, giving you plenty of perspective on your surroundings. With a driver in the front seat, seat height reaches 29.8 inches.
Engine
The Street Rod's High Output Revolution X V-Twin will have you thrumming up the highway with the wind in your hair. With 47 pound-feet of torque, this cruiser appeals to the adventurous at heart. The engine includes dual throttle body, cylinder heads, and enhanced intake ports and cams. Its 12.0:1 compression ratio means both more horsepower and more torque than even the Harley-Davidson Street 750.
Performance
The Street Rod is certainly never short on thrills. Whether you're roaming the open highway or cutting up city streets, you'll appreciate this cruiser's 40 degrees of lean angle and 9,000 rpm redlines. The front and rear suspension — including 43 mm inverted front forks and rear piggyback shocks — lend themselves to a smooth lean and a sporty ride in general. The teardrop gas tank holds 3.5 gallons of fuel and features the classic Harley-Davidson logo.
Safety Features
Harley-Davidson offers the Reflex Defensive Rider Systems, a range of tech features designed to optimize your on-road performance.
The Harley-Davidson antilock brake system keeps wheels from locking for safer, controlled stops during straight-line performance. With the cornering enhanced antilock brakes system, drivers can maintain maximum precision when braking around tight turns and on winding roads. Then there's the electronic linked braking system, which applies the brakes on both wheels when the driver engages either the front hand lever or back foot pedal, optimizing overall braking performance. Finally, the Harley-Davidson cornering electronic linked braking system takes both lean and lateral acceleration into account, doling out braking pressure between front and back wheels accordingly for greater driver precision.
Traction control offerings also help you maximize on-road control, keeping the Street Rod's wheels from spinning out while leaning, during acceleration, or during wet-weather rides.
As you slow to a stop, the drag-torque slip control system is designed to reduce rear-wheel slippage, especially on wet roads. An advanced version of this system, the cornering enhanced drag-torque slip control system, detects your lean angle to maximize precision around tight corners.